Part of the Cashel Arts Festival 2023 
Bingo! Circus! Aerial Show! 
Dunshinney Community Radio – Pre-show Listening for House!
This snippet of very real, not at all made up, radio, is to listen to before the show starts
For further bookings of House! and our show When the Moon Spun Round 
House! creators
Chantal McCormick – Producer, director & choreographer
Jym Daly – Music composer
Cast
Sara Granda – Aerialist 
Gill Byrne – Elvis impersonator & aerialist 
Polina Shapkina – Aerialist 
Claire Carroll – Aerialist
Jamie Carswell – The Bingo Caller 
Jean McGlynn – Biddy, the event organiser
Chantal McCormick – Aerialist 
Soar Ups
Clara Kerr – Aerialist & Soar Up
Maire Morrison – Performer & Soar Up
Andrea Healy – Performer & Soar Up
Bethany Hayes – Aerialist & Soar Up
Break Dancers
Eoin kelly
Leon Odwer   
Nathan kelly  
Crew
Fintan Sweeney – Production Manager
Gemma Trimble – Stage Manager
Keylor Rojas – Rigger
Mark Carry – Rigger
Jose Portillo  – Rigger
Bryan Donaldson – Rigger
Mark McKinney – Crane Driver 
Evan Berry – Sound Engineer 
Community Performers
St John the Baptist Girls' Primary School (4th, 5th and 6th Classes)
Aisling O'Dwyer and family
Community Engagement
Kate Mitchelle – Community artist teacher 
Suzon Gheur – Community artist teacher
Ashton Phoenix – Engagement Officer 
Rebecca Lenehan – Local Artist
Fidget Feet are celebrating 25 years
Celebrate with us. If you take photos during the show reshare on social media by tagging us on Instagram @fidget__feet use our hashtag #fidgetfeet25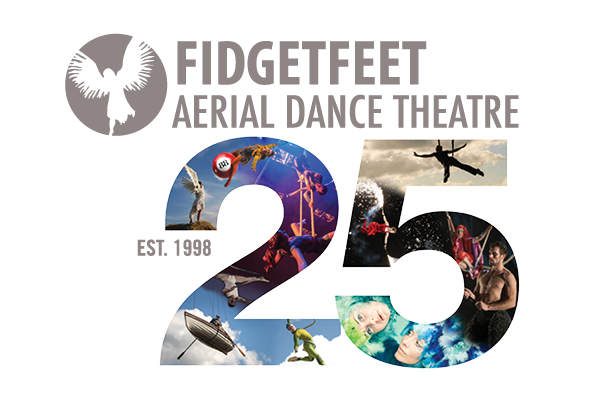 WHAT IS AERIAL DANCE?
It's Dance! It's Creative! It's flying with style! Combining athleticism & creative expression. While using low-hanging trapeze, aerial silks, spirals, hoops & cocoons. A beautiful art form, while having fun and building strength!
Wanna try it out?
Our Aerial Creation Centre in Limerick provides workshops, kids classes, adult classes & bootcamps.
WE ARE CELEBRATING 25 YEARS!
2023 marks 25 years of Fidget Feet leading the way in aerial performance in Ireland. 
We'll spend the whole year celebrating with our audiences, funders, partners, board, staff, artists, arts workers and sharing with you ALL what we do best which is Aerial Arts for ALL!