In the Courtyard, King Johns Castle
Join us in the Courtyard of King John's Castle on Saturday 16th December for 2 magical Christmas shows. 
Saturday 16th December 5.00pm
Saturday 16th December 7.30pm
For the 5 pm show gates open at 4.30 pm. For the 7.30 pm show gates open at 7.00 pm. This will be your chance to meet Mrs Clause and the elves. Our best-dressed judge will also be scouting the crowd for the Christmas best-dressed so have your model pose at the ready!
The beautiful Mermaid and her seahorse are stuck on the tower of King John's Castle. How did she get up there? She's lost her presents and needs to get back to the Shannon. But are the presents really lost?  Could it be the wicked witch who is trying to ruin Christmas for everybody?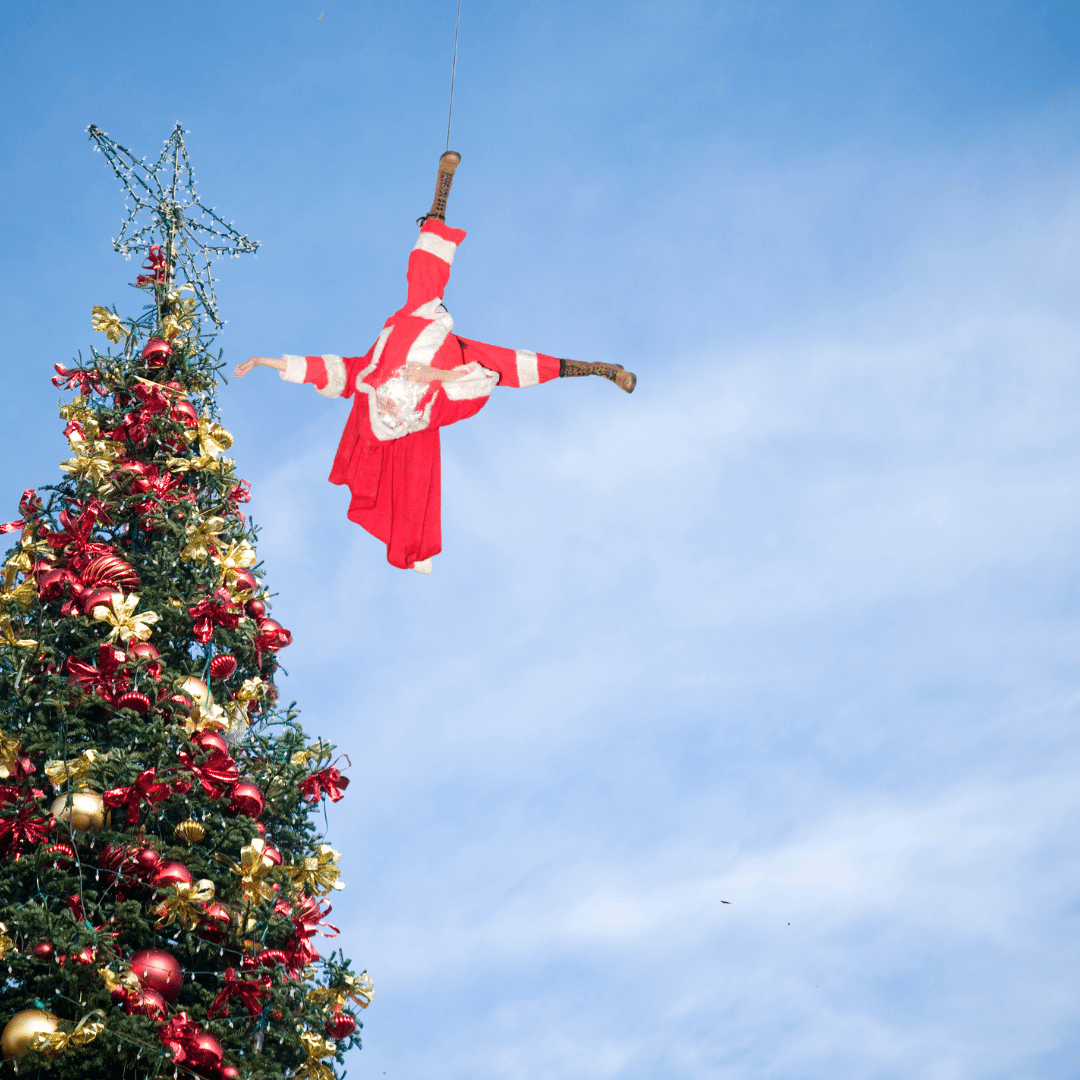 Fear not – Santa is near! Santa and his mischievous elves will make a surprise visit during their busy schedule. But will Santa save Christmas and find the Mermaid's presents?   
Lets have a Holly Jolly Christmas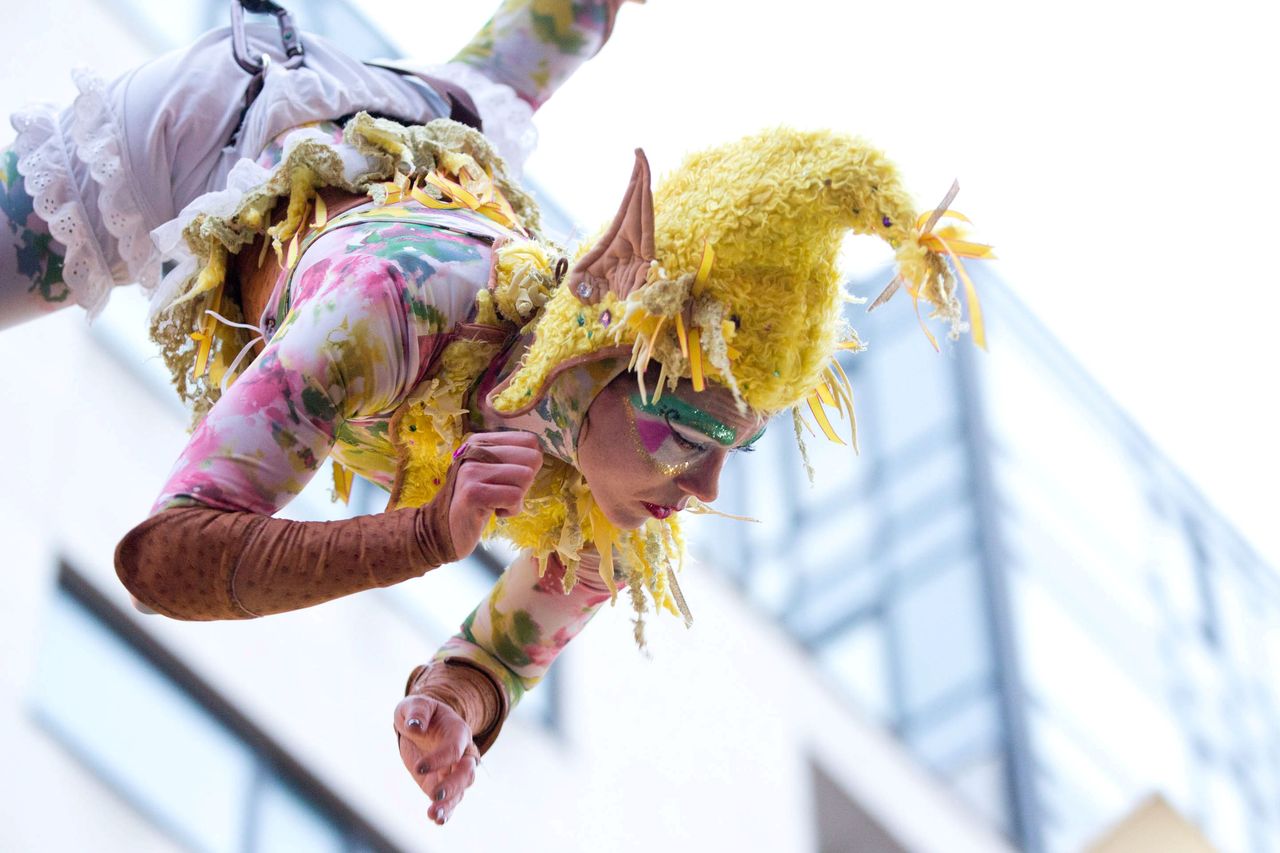 Our local sponsors for Christmas best-dressed 
ODD Hair, Beauty and Wellness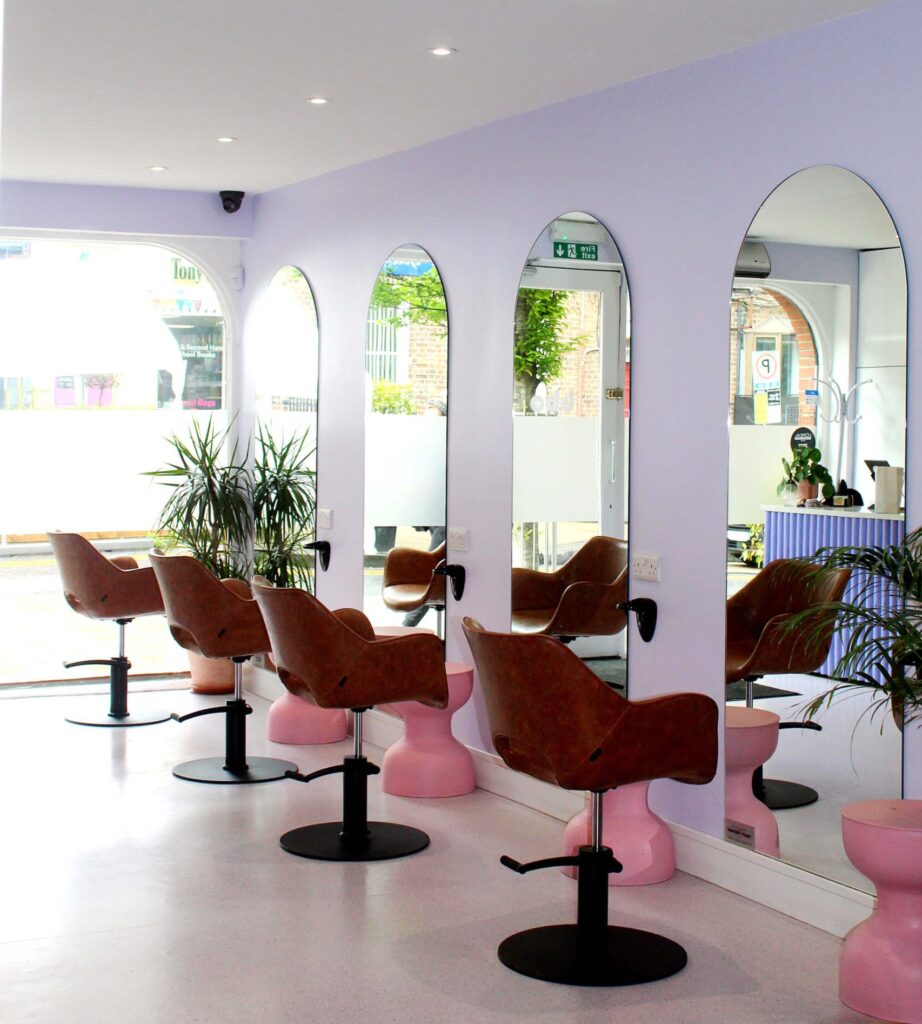 Odd is an innovative co-working space specifically designed to empower & grow Independent Hair, Beauty and wellness professionals. Our community celebrates individuality, elevates authenticity & moves collectively as one. 
A hub full of culture, creativity and sustainability! We believe in creating the salons of the future! Home to Limerick city's only sustainable salon experience.
To find out more about Odd click here 
Irish Aerial Creation Centre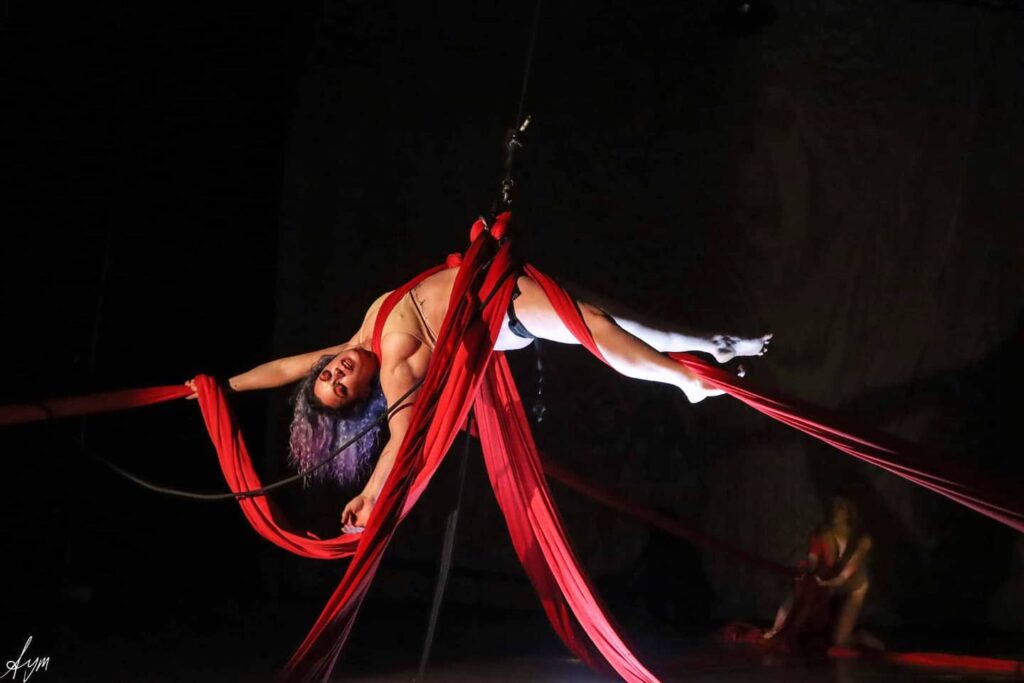 Fidget Feet bring their enchanting and somewhat curious Christmas story to soaring heights at King John's Castle Courtyard
Dress up in your best Christmas fare and you might win a prize from one of our fab local sponsors! But don't forget to dress warmly on this crisp Christmas evening, this is an outdoor event.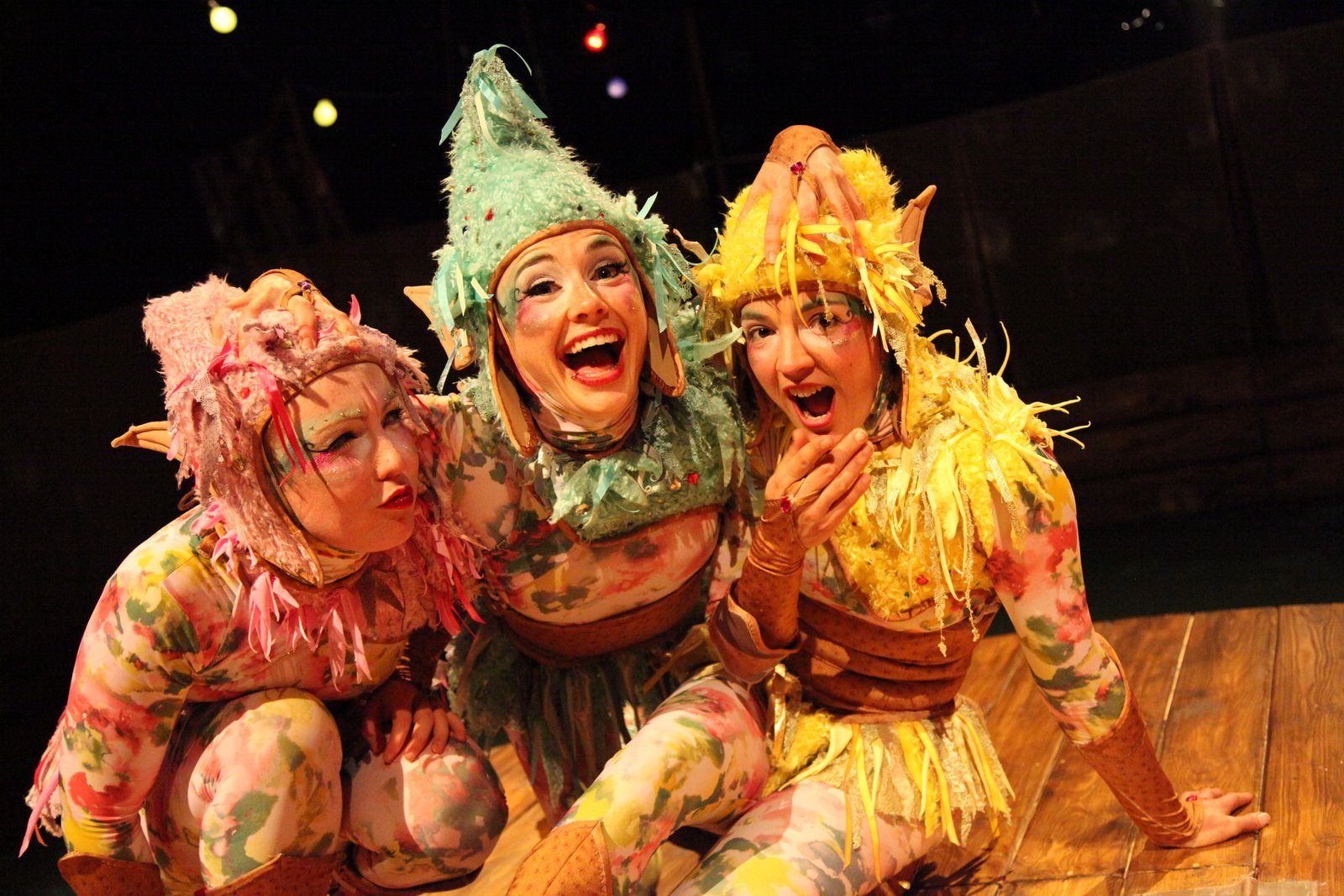 "Fidget Feet always brings fun and joy to any occasion. It is always a pleasure to see them perform"
We are celebrating 25 years this year. Come spread the Christmas cheer with us and celebrate 25 years of Fidget Feet in the skies.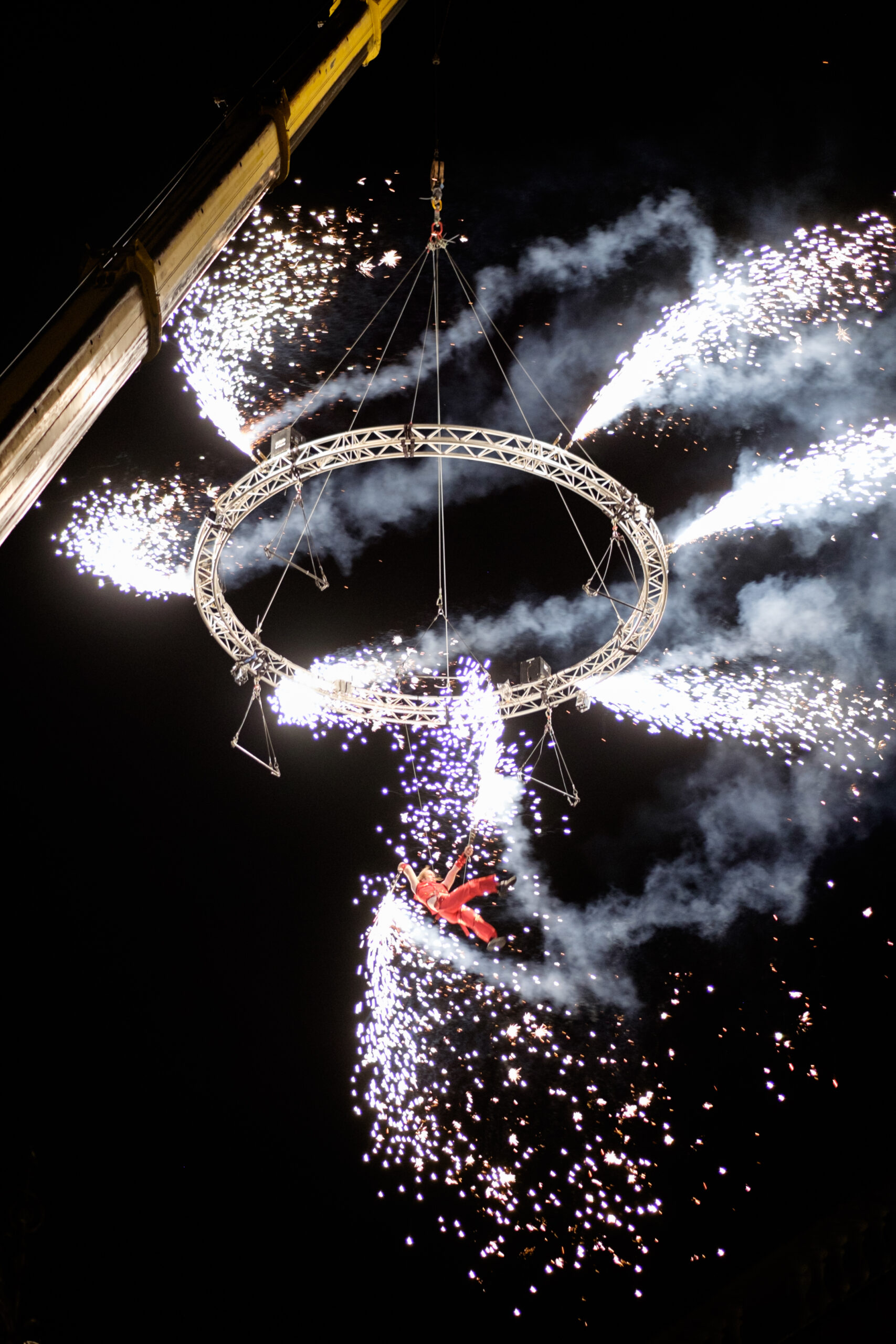 FAQs
Do I need to print my ticket?
Fidget Feet, King Johns Castle & LCCC are sustainable organisations. To keep our earth litter free we request that you do not print your ticket. Once you have proof of purchase on your phone then that is good enough for us! You will be asked on entry to show proof of purchase.
Proof of purchase equates to tickets shown in an email or screenshot on your phone.
Proof of booking will be checked upon entry please bring proof of booking.
How many tickets can I book at a time?
A maximum of 10 single tickets can be purchased at one time. 2 family tickets can be purchased at one time.
Can I purchase tickets at the door?
Tickets cannot be purchased at King John's Castle. Tickets are to be purchased online for a smooth run at entry. All major credit/debit cards are accepted.
What is the refund policy for this event?
Tickets are non-refundable. Refunds will be issued in the case of the event being cancelled. 
What is the policy for a cancelled/postponed event?
Fidget Feet will issue a full refund for a cancelled/postponed event
When do doors open
Entry will open 30 minutes before the show commences. For the 5 pm show doors will open at 4.30 pm. For the 7.30 pm show doors will open at 7.00 pm 
Please be aware that this is a Christmas event and there will be longer queues than normal. Please inform us when booking that you need special access for a wheelchair user or have any other accessibility questions. For wheelchair users please arrive at the event 40 minutes before so that we can direct you to your location. 
How long is this event?
There will be walkabout entertainment from when the doors open and the actual Aerial Extravaganza show will run for 30 minutes from 5 pm to 5.30 pm and from 7.30 pm to 8.00 pm. Please note that there will be a queue when leaving the event. For wheelchair users please be mindful of the queues when leaving this event. 
What happens if I am late for the event?
Gates open 30 minutes before each show, tickets
cannot be accommodated on a different timeslot. There will be no refunds issued.
Is this a seated event?
This is an outdoor open-air event and it is a non-seated event. There will be an accessibility section. Please contact us if you have any questions at boxoffice@fidgetfeet.com

Is this an accessible friendly event?
The site is fully accessible. We would request that anyone with special accessibility requirements please notify us directly upon booking.

email: boxoffice@fidgetfeet.com
Where is the show taking place and how do you access the venue?
This event is taking place at King John's Castle. Please access the event through the courtyard entrance or the King John's Castle entrance. For wheelchair access please use the courtyard entrance. Please email boxoffice@fidgetfeet.com with accessibility questions.
Are there local bus routes I can use?

Bus routes 305 will take you to the city centre. it is an 8-minute walk from central Limerick to the castle.
Is there parking available?
There is no parking at King John's Castle for this event. We would advise using nearby car parks and walking to the venue. Nearby car parks to the venue are the Potato Market car park and Barringtons Car Park or Arthurs Quay Car Park. It is an 8-minute walk to the castle from central Limerick City.
For on-street parking a helpful app is e-parking. 
https://www.limerickparking.ie/
Is there disabled parking near the venue
The main King Johns Castle car park will be closed for this event. There is street parking in front of the courtyard entrance and street parking across from the main King John Castle entrance.  
Can I bring a camera to this event?
Yes. We encourage you to share your photos by tagging Fidget Feet, King John's Castle, and Christmas in Limerick. Fidget Feet is celebrating 25 years this year and this is our final event of the year. We would love to see and share your photos. 
#fidgetfeet25 Instagram @fidget__feet
Instagram @kingjohnscastle #kingjohnscastle
Instagram @christmasinlimerick #christmasinlimerick
Will there be a flashing lights at this event?
There will be pyro technics at this show, flashing lights and smoke effects.
Will the venue be well-lit?
This is an evening event. Sunset will be 4.15 pm on the 16th of December. King John's Castle and the event itself will have emergency lights for exiting and entering the event. For the actual aerial extravaganza, these lights will be turned off and it will only have stage lighting on the show. But please be mindful that it is outdoors and the ground may be uneven in places. 
What toilet facilities will be available?
There will be outdoor portaloos and outdoor accessible portaloos at this event.
Will the castle be open during the event to explore?
The castle will be closed during this event.
Will there be food and drinks available?
There will be no food or beverages served at this event due to turn around in between shows.   We request that any glass or plastic bottles be disposed of upon entry. 
What should I wear to this event?
This is an evening show situated in the courtyard of King John's Castle. All of the event will be outside. King John's Castle is beside the Shannon. It will be cold. Please dress yourself and your family warm. Flat shoes are advised. If you are dressing in a Christmas outfit for the best dresses competition please wear thermals underneath to protect yourself from the cold temperatures. 
Contact: boxoffice@fidgetfeet.com
Emma Sheehan Makeup Artist Emma Sheehan is a talented Limerick city based occasion makeup artist 
Check out Emma's business here 
WHAT IS AERIAL DANCE?
It's Dance! It's Creative! It's flying with style! Combining athleticism & creative expression. While using low-hanging trapeze, aerial silks, spirals, hoops & cocoons. A beautiful art form, while having fun and building strength!
Wanna try it out?
Our Aerial Creation Centre in Limerick provides workshops, kids classes, adult classes & bootcamps.
WE ARE CELEBRATING 25 YEARS!
2023 marks 25 years of Fidget Feet leading the way in aerial performance in Ireland. 
We'll spend the whole year celebrating with our audiences, funders, partners, board, staff, artists, arts workers and sharing with you ALL what we do best which is Aerial Arts for ALL!