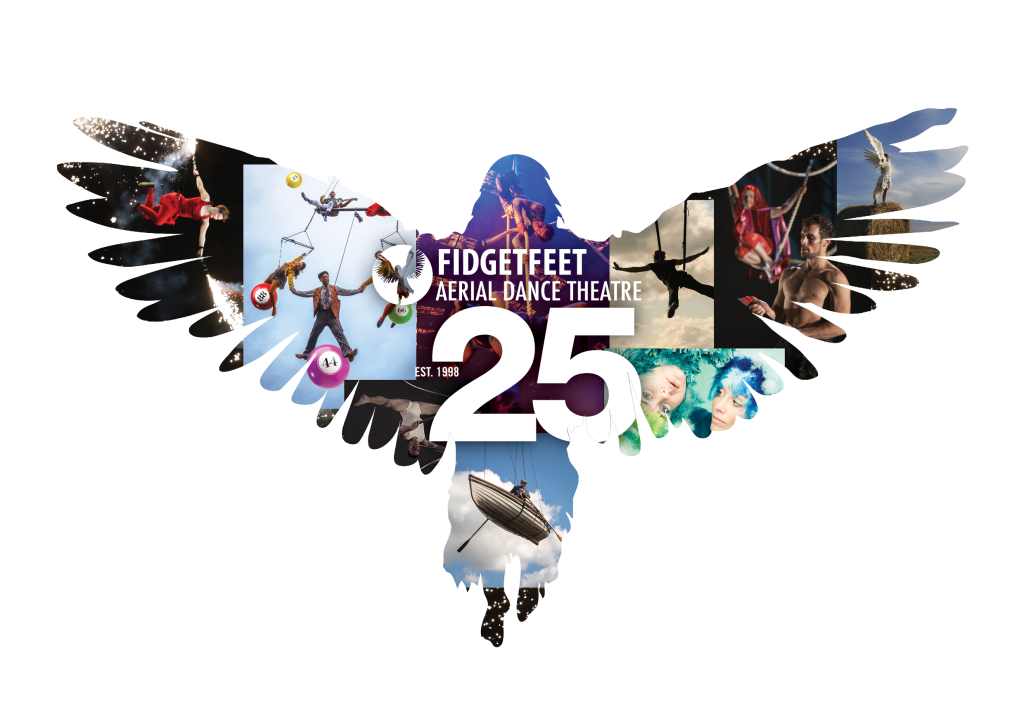 2023 is a celebratory year for the Fidget Feet family, now we are in our 25th year.
It's a time to remember and thank all those who have been part of this journey.  There is far too many to mention, but if you are reading this you know who you are…  so let's celebrate!
We will spend this whole year celebrating with our audiences, funders , partners, board , staff , artists, arts workers and more – sharing with you all what we do best which is Aerial Arts for ALL!
Fidget Feet are known for our work for young audiences;  our outdoor work; our Irish Aerial Dance Festival; and our theatre productions.
The celebrations kick off in February with the World Premiere of When the Moon Spun Round in Siamsa Tire (with touring dates later in the year).  This gorgeous new show, created in partnership with Ceol Connected, is testament to the journey we have been on to fine-tune our production of high quality work for our young audiences.  Continuing to spark joy with young hearts since 2012.  
Our beautiful outdoor show A Handful of Dreams returns in the summer for performances at 3 Irish festivals; while our spectacular interactive bingo extravaganza House! comes to Kildare, Tipperary and Donegal. Returning to the skies flying from a crane!
Our commitment to nurturing aerial talent and the development of aerial arts in Ireland and internationally with the Irish Aerial Dance Festival in Donegal 17-29 July. Bookings open in February.
2023 will also see the development of a new Theatre production, as we commence research and development on a new show with Limerick based artist Tobi Omoteso, mixing street dancing, opera and aerial for our twist on a Hip'hopera.
A selection of some of our most fun flights of the past 25 years…